Oh maaan. What's up non existent blog followers that remain♥♥ 
Sorry for the lack of posting and pretty much abandonment of this sweet little blog baby we created. I'll pay for its therapy that will be needed later in life. Whatever.
Anyways, we had a string of some chilly days a few weeks ago and it totally kicked my Halloween love into extra high gear. This outfit was a result of a failure on another outfit which just wouldn't come together right, but in turn made this awesome outfit. I think I've worn it about two days now O_o/// So.. I'll stop rambling and get to the good stuff.
VOILA!
The Basics
Skin: It Girls!– Lorde Cocoa
Eyes: *L.inc* EyeZ Blind
Eyebrows: Nox.– Rapture Brows w/ Beks Brow Base
Body:Maitreya– Mesh body Lara
Hair: Moon at Kustom9!!– Atlas Hands Ombre Hud
The Fabric:
Dress: -Pixi Cat- London Top Black
Septum:Dirty Stories– Princess Septum
Choker: Amitomo– Choker #1 from Crop top and loose shirt at Kustom9
Long Necklace: (not available anymore)
Bangles: Kibitz- Chara Bangles
Stockings:-SU- Dripping stockings Lavender
Other:
Bat Aura:Challis Bat Aura
This bat aura is sooo fricking awesome.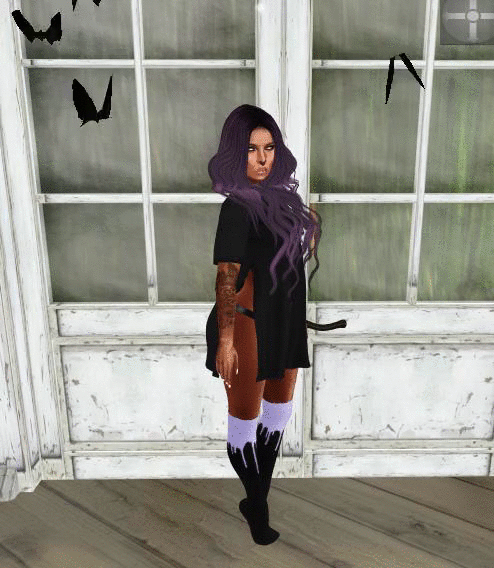 Feel free to notecard me inworld if you have any questions!!!
♥♥♥♥♥Roxe Brimmer